The bad news is 2019 will find humanity continuing to head toward the termination of organized existence, with the U. S. government continuing to lead the way.  The good news is 2019 will also find amazing books written by amazing writers published by amazing presses, small and indie presses as always working against great odds to transform the literary world, if not the world itself, by publishing the best words in the best order. Check out my picks for the 2019 books to buy, read, share, borrow, review, talk about, etc., below!
January
Thick: and Other Essays (The New Press), by Tressie McMillan Cottom
"In these eight piercing explorations on beauty, media, money, and more, Tressie McMillan Cottom—award-winning professor and acclaimed author of Lower Ed—embraces her venerated role as a purveyor of wit, wisdom, and Black Twitter snark about all that is right and much that is wrong with this thing we call society. Ideas and identity fuse effortlessly in this vibrant collection that on bookshelves is just as at home alongside Rebecca Solnit and bell hooks as it is beside Jeff Chang and Janet Mock. It also fills an important void on those very shelves: a modern black American feminist voice waxing poetic on self and society, serving up a healthy portion of clever prose and southern aphorisms as she covers everything from Saturday Night Live, LinkedIn, and BBQ Becky to sexual violence, infant mortality, and Trump rallies. Thick speaks fearlessly to a range of topics and is far more genre-bending than a typical compendium of personal essays. An intrepid intellectual force hailed by the likes of Trevor Noah, Chimamanda Ngozi Adichie, and Oprah, Tressie McMillan Cottom is 'among America's most bracing thinkers on race, gender, and capitalism of our time' (Rebecca Traister). This stunning debut collection—in all its intersectional glory—mines for meaning in places many of us miss, and reveals precisely how the political, the social, and the personal are almost always one and the same."
The Alarming Palsy of James Orr (Soho Press), by Tom Lee
"Kafkaesque and darkly humorous 'suburban gothic' that tracks the unraveling of man's body, mind, and life. James Orr—husband, father, reliable employee and all-around model citizen—awakes one morning to find half his face paralyzed. Waiting for the afflisction to pass, he stops going to work and wanders his idyllic estate, with its woodland, uniform streets and perfectly manicured lawns. But there are cracks in the veneer. And as his orderly existence begins to unravel, it appears that James may not be the man he thought he was. A deeply unsettling story of creeping horror that consistently confounds expectations, The Alarming Palsy of James Orr introduces a writer of extraordinary and disturbing talents."
Four Tales of Troubled Love (Harvard Square Editions), by Matthew James Babcock
"Enter this tetrad of tangled love tales at the turn of the last millennium when what were then the latest technologies—personal computers, fax machines, and mobile phones—started to short-circuit pacemakers. This tour de four of realistic love stories operates operatically, like a piece of music in four movements, sometimes zany and tragic, at times surreal and sublime. [….] T. S. Eliot had his Four Quartets of poetry, now comes a foursome of fiction. For beach readers, literature connoisseurs, and book club junkies alike, these tales will quadruple the pleasure in reflecting on how we live and love. Wherever you take them, they will find you once again, in love with trouble and troubled by love."
To Keep the Sun Alive (Catapult), by Rabeah Ghaffari
"The year is 1979. The Iranian Revolution is just around the corner. In the northeastern city of Naishapur, a retired judge and his wife, Bibi-Khanoom, continue to run their ancient family orchard, growing apples, plums, peaches, and sour cherries. The days here are marked by long, elaborate lunches on the terrace where the judge and his wife mediate disputes between aunts, uncles, nieces, and nephews that foreshadow the looming national crisis to come. Will the monarchy survive the revolutionary tide gathering across the country? Will the judge's brother, a powerful cleric, take political control of the town or remain only a religious leader? And yet, life goes on. Bibi-Khanoom's grandniece secretly falls in love with the judge's grandnephew and dreams of a career on the stage. His other grandnephew withers away on opium dreams. A widowed father longs for a life in Europe. A strained marriage slowly unravels. The orchard trees bloom and fruit as the streets in the capital grow violent. And a once-in-a-lifetime solar eclipse, set to occur on one of the holiest days of year, finally causes the family—and the country—to break. Told through a host of unforgettable characters, ranging from servants and young children to intimate friends, To Keep the Sun Alive reveals the personal behind the political, reminding us of the human lives that animate historical events."
February
Time's Up!: Memoir of of the American Century (McPherson & Company),
"Blending history, essay, travelogue, and autobiography, Time's Up! is a personal and political saga: luminous, probing, and absorbing. At constant odds with his Boston Brahmin lineage and upbringing, Robert Cabot confronts white privilege, rejects the conventional trappings of wealth and fame, and critiques our American heritage of colonialism, imperialist yearnings, and penchant for perpetual war. In alternating chapters we witness his life and the nation's, from the sepia-toned 'twenties through the color-drained Great Depression, from World War Two through the disquieting cold war, the rise of the counter-culture, and the decades after. In particular, he tells of his search across fifty years for a place in the world. 'It was my century too,' he writes. 'I return to it, to my memories of my world and my life, the swirls of attitudes and events and people around a long, privileged, and wildly varied American life.' Whether as a State Department official, co-founder of an intentional community, citizen-ambassador, philanthropist, conservationist, or self-exiled novelist, he recounts his adventures around the world—in Kabul, Kunjerab, Moscow, Andalucia, Peshawar, Chaing Mai, Algiers, L'Île Rousse, Naples, Tuscany, Bastia, Rome, Bésançon, Paris, Thailand, Cambodia, Ceylon, Taiwan, Laos, and many other places—and introduces us to a large and equally diverse cast of characters. Time's Up!​ is a kaleidoscopic self-portrait, and a devastating examination of our nation in slow but almost certain decline. Cabot's expansive literary gifts are on full display, whether delivering vital strikes against American 'exceptionalism' and hypocrisy, or gratefully embracing 'whatever beauty and love life has given us.'" 
Birthday (New Directions), by César Aira
"Birthday is among the very best of Aira—it will surprise readers new to his work, and will deeply satisfy his many fans. Soon enough you realize that you are no longer twenty years old, because right away you are no longer young … and by the way, while you were thinking about other things, the world was also changing. And then, just as suddenly, you are fifty years old. Aira had anticipated his fiftieth—a time when he would not so much recall years past as look forward to what lies ahead—and yet that birthday came and went without much ado. It was only months later, while having a somewhat banal conversation with his wife about the phases of the moon, that he realized how little he really knows about his life. This book consists of a series of short chapters in which Aira searches for and meditates on the events that were significant to him during his first fifty years. Between anecdotes, and memories, the author ponders the origins of his personal truths, and wonders about literature meant as much for the writer as for the reader, about ignorance, knowledge, and death. Finally, Birthday is a little sad, in a serene, crystal-clear kind of way, which makes it even more irresistible."
Casting Deep Shade (Copper Canyon), by C. D. Wright
"Casting Deep Shade is a passionate, poetic exploration of humanity's shared history with the beech tree. Before Wright's unexpected death in 2016, she was deeply engaged in years of ambling research to better know this tree; she visited hundreds of beech trees, interviewed arborists, and delved into the etymology, folklore, and American history of the species. Written in Wright's singular prosimetric style, this 'memoir with beech trees' demonstrates the power of words to conserve, preserve, and bare witness. Honoring Wright's lifelong fascination with books as objects, this final work is a three-panel hardcover that encloses the body of text, illustrated with striking color photographs of beech trees by artist Denny Moers."
Sea Monsters (Catapult), by Chloe Aridjis
"Pulsing to the soundtrack of Joy Division, Nick Cave, and Siouxsie and the Banshees, an intoxicating portrait of Mexico in the late 1980s by this brilliant Guggenheim fellow and Prix du Premier Roman Étranger–winning author. One autumn afternoon in Mexico City, seventeen-year-old Luisa does not return home from school. Instead, she boards a bus to the Pacific coast with Tomás, a boy she barely knows. He seems to represent everything her life is lacking—recklessness, impulse, independence. Tomás may also help Luisa fulfill an unusual obsession: she wants to track down a traveling troupe of Ukrainian dwarfs. According to newspaper reports, the dwarfs recently escaped a Soviet circus touring Mexico. The imagined fates of these performers fill Luisa's surreal dreams as she settles in a beach community in Oaxaca. Surrounded by hippies, nudists, beachcombers, and eccentric storytellers, Luisa searches for someone, anyone, who will 'promise, no matter what, to remain a mystery.' It is a quest more easily envisioned than accomplished. As she wanders the shoreline and visits the local bar, Luisa begins to disappear dangerously into the lives of strangers on Zipolite, the 'Beach of the Dead.' Meanwhile, her father has set out to find his missing daughter. A mesmeric portrait of transgression and disenchantment unfolds. Sea Monsters is a brilliantly playful and supple novel about the moments and mysteries that shape us."
Magical Negro (Tin House), by Morgan Parker
"From the breakout author of There Are More Beautiful Things Than Beyoncé comes a profound and deceptively funny exploration of Black American womanhood. Magical Negro is an archive of black everydayness, a catalog of contemporary folk heroes, an ethnography of ancestral grief, and an inventory of figureheads, idioms, and customs. These American poems are both elegy and jive, joke and declaration, songs of congregation and self-conception. They connect themes of loneliness, displacement, grief, ancestral trauma, and objectification, while exploring and troubling tropes and stereotypes of Black Americans. Focused primarily on depictions of Black womanhood alongside personal narratives, the collection tackles interior and exterior politics―of both the body and society, of both the individual and the collective experience. In Magical Negro, Parker creates a space of witness, of airing grievances, of pointing out patterns. In these poems are living documents, pleas, latent traumas, inside jokes, and unspoken anxieties situated as firmly in the past as in the present―timeless black melancholies and triumphs."
The Collected Schizophrenias (Graywolf), by Esmé Weijun Wang
"An intimate, moving book written with the immediacy and directness of one who still struggles with the effects of mental and chronic illness, The Collected Schizophrenias cuts right to the core. Schizophrenia is not a single unifying diagnosis, and Esmé Weijun Wang writes not just to her fellow members of the 'collected schizophrenias' but to those who wish to understand it as well. Opening with the journey toward her diagnosis of schizoaffective disorder, Wang discusses the medical community's own disagreement about labels and procedures for diagnosing those with mental illness, and then follows an arc that examines the manifestations of schizophrenia in her life. In essays that range from using fashion to present as high-functioning to the depths of a rare form of psychosis, and from the failures of the higher education system and the dangers of institutionalization to the complexity of compounding factors such as PTSD and Lyme disease, Wang's analytical eye, honed as a former lab researcher at Stanford, allows her to balance research with personal narrative. An essay collection of undeniable power, The Collected Schizophrenias dispels misconceptions and provides insight into a condition long misunderstood."
 Spring and Autumn Annals and Revolutionary Letters (City Lights), by Diane Di Prima
"In the autumn of 1964, Diane di Prima was a young poet living in New York when her dearest friend, dancer, choreographer, and Warhol Factory member, Freddie Herko, leapt from the window of a Greenwich Village apartment to a sudden, dramatic, and tragic death at the age of 29. In her shock and grief, di Prima began a daily practice of writing to Freddie. For a year, she would go to her study each day, light a stick of incense, and type furiously until it burned itself out. Later, di Prima would take up this stream-of-consciousness manuscript and make it into something for others to read. The result is an eloquent ode to her friend; to the constellation of writers, artists, and revolutionaries who made up their community; and to the chaos and struggle of lives lived fully in the pursuit of personal and artistic goals while the world around them hurtles toward changes that will soon upend everything. The narrative ranges over the decade from 1954—the year di Prima and Herko first met—to 1965, with occasional forays into di Prima's memories of growing up in Brooklyn. Lyrical, elegant, and nakedly honest, Spring and Autumn Annals is a moving tribute to a friendship, and to the extraordinary innovation and accomplishments of the period. Masterfully observed and passionately recorded, it offers a uniquely American portrait of the artist as a young woman in the heyday of bohemian New York City."
Trump Sky Alpha (Graywolf), by Mark Doten
"Twice a week, the president pilots his ultraluxury airship Trump Sky Alpha (seats start at $50,000), delivering, as he travels between DC, NYC, and Mar-a-Lago, a streaming YouTube address to the nation, in which he trumpets his successes and blasts his enemies—until the day his words plunge the world into nuclear war. One year later, with 90 percent of the world's population destroyed, a journalist named Rachel has taken refuge in the Twin Cities Metro Containment Zone. Rachel goes on assignment to document the final throes of humor on the internet in those moments before the end, hoping along the way to discover the final resting place of her wife and daughter. What she uncovers, hidden amid spiraling memes and Twitter jokes in a working archive of the internet's remnants, are references to a little-known book that inspired a shadowy hacktivist group called the Aviary. Their role in the downfall of the internet, and the enigmatic presence of a figure known only as Birdcrash, take on immense and terrifying dimensions as Rachel ventures further into the ruins of the internet. Mark Doten, a satirist of unparalleled vision, brilliantly details how the internet has infiltrated every aspect of our lives, laying the groundwork for the tumult of our current political moment, and, in the kaleidoscopic, queer, all-consuming, parallactic swirl of Trump Sky Alpha, for the future headed our way."
Good Will Come From the Sea (Archipelago), by Christos Ikonomou;
translated by Karen Emmerich
"Christos Ikonomou's collection Good Will Come From the Sea is a dirge for the Greek economic crisis and the devastation it has wrought, a profound meditation on the nature of justice in an unjust world. On an unnamed island, struggling migrants and trapped locals endure the crushing weight of poverty in these four linked stories. Artemis and Stavros see their dreams destroyed when a local cartel burns down their restaurant; wheelchair-bound Chronis agonizes as a neighbor assaults a young girl. Meanwhile, Lazarus wanders the island in search of his lost son, 'disappeared' at the hands of the local mob—the same gangsters who break visionary Tasos's body and spirit for daring to stand up to them. As the characters mourn their livelihoods, loved ones, and dreams, only ghostly threads of hope keep them marching toward a future that shows little promise of change. Good Will Come From the Sea is a tender and defiant song of loss, a study of poverty's toll on the human soul."
 Snapshots (Yale University Press), by Claudio Magris; translated by Anne Milano Appel
"A collection of brief, but intimate meditations on life and culture ranging from controversial matters to private moments. The internationally acclaimed author Claudio Magris offers a collection of brief 'snapshots' reflecting on life and culture from 1999 to 2013 through his very personal lens. Some pieces portray private, intimate moments, while others offer views on public, sometimes controversial matters; the tone is sometimes serious, sometimes humorous, sometimes ironic, but always engaging. The panoramic nature of the vignettes is broad in scope, encompassing a variety of subjects rendered in quick, decisive brushstrokes. It is a little like leafing through a photo album of our times and our society while a learned companion seated beside us offers a perceptive running commentary. Magris's wit—at times pungent, at times self-deprecating, always keen—is refreshingly affable. A continuing adventure by the author who has reinvented 'travel literature.'"
The Atlas of Reds and Blues (Counterpoint), by Devi S. Laskar
When an unnamed narrator moves her family from the city of Atlanta to its wealthy suburbs, she discovers that neither the times nor the people have changed since her childhood in a small Southern town. Despite the intervening decades, the woman, known only as The Mother, is met with the same questions: Where are you from? No, where are you really from? The American-born daughter of Bengali immigrant parents, her truthful answer—Here—is never enough. She finds herself navigating a climate of lingering racism with three daughters in tow and a husband who spends more time in business class than at home. The Mother's simmering anger breaks through one morning, when, during a baseless and prejudice-driven police raid on her house, she finally refuses to be calm, complacent, polite—and is ultimately shot. As she lies bleeding on her driveway, The Mother struggles to make sense of her past and decipher her present—how did she end up here? Devi S. Laskar has written a brilliant debut novel that grapples with the complexities of the second-generation American experience, what it means to be a woman of color in the workplace, a sister, a wife, a mother to daughters in today's America. Drawing inspiration from the author's own terrifying experience of a raid on her home, The Atlas of Reds and Blues explores, in exquisite, lyrical prose, an alternate reality that might have been."
Letters to My City (Writ Large Press), by Mike Sonksen
"The poems and essays in Letters to My City combine two decades of field experience, research, personal observations, and stories told to the author, a third-generation Los Angeles native, by his grandfather and other family members, to interrogate all sides of Los Angeles, its streets, its people, its neighborhoods, as a means to examine the postmodern metropolis."
Experiments in Joy (Civil Coping Mechanisms), by Gabrielle Civil
"Gabrielle Civil's Experiments in Joy celebrates black feminist collaborations and solos in essays, letters, performance texts, scores, images, and more. Following her explosive debut, Swallow the Fish, Civil now documents her work with From the Hive, No. 1 Gold, and Call & Response—whose collaborative Call inspired the title. The book also features her solo encounters with artists and writers, ancestors and audiences. Here you will find black girlhood, grief, ghosts, girls in their bedrooms, lots of books, dancing, reading, falling in love, fighting back, and flying. With lots of heart and the help of her friends, Civil keeps reckoning with performance, art and life."
Losing Miami (Civil Coping Mechanisms), by Gabriel Ojeda Sague
"Losing Miami is an experiment in grieving the potential loss of Miami to rising sea levels. What are we losing if we lose Miami, a seemingly impossible city formed out of Caribbean migration and the transformation of language? This book asks how we cope with loss at such a grand scale, all while the world continues to rapidly change."
Psychopomps (Civil Coping Mechanisms), by Alex DiFrancesco
"In 2010, Alex DiFrancesco had a different name and was a missing person. Alone in a mental hospital, they began to have fantasies of running away permanently, changing their name, growing a beard. In their journey to coming out as transgender, DiFrancesco moved from New York City to the Midwest. Psychopomps follows them on the search for family, marriage, relationships with other trans people, attempts to build community, and for the elusive link to ancient beliefs about the special spiritual role of the trans individual in society."
Kathy Acker: The Last Interview And Other Conversations (Melville House);
edited by Amy Scholder and Douglas A. Martin
"Kathy Acker was a punk-rock counter-cultural icon, and innovator of the literary underground. The interviews collected here span her amazing, uncompromising, and often misunderstood 30-year career. From Acker's earliest interviews—filled with playful, evasive, and counter-intuitive responses—to the last interview before her death, where she reflects on the state of American literature, these interviews capture the writer at her funny and surprising best. Another highlight includes Acker's 1997 interview with the Spice Girls on the forces of pop and feminism (which reads as if it could have been conducted with a new generation of pop star in 2018)."
On the End of Privacy: Dissolving Boundaries in a Screen-Centric World
(University of Pittsburgh Press), by Richard E. Miller
"On the End of Privacy explores how literacy is transformed by online technology that lets us instantly publish anything that we can see or hear. Miller examines the 2010 suicide of Tyler Clementi, a young college student who jumped off the George Washington Bridge after he discovered that his roommate spied on him via webcam. With access to the text messages, tweets, and chatroom posts of those directly involved in this tragedy, Miller asks: why did no one intervene to stop the spying? Searching for an answer to that question leads Miller to online porn sites, the invention of Facebook, the court-martial of Chelsea Manning, the contents of Hillary Clinton's email server, Anthony Weiner's sexted images, Chatroulette, and more as he maps out the changing norms governing privacy in the digital age."
The Animal Who Writes: A Posthumanist Composition
 (University of Pittsburgh Press), by Marilyn M. Cooper
"Writing begins with unconscious feelings of something that insistently demands to be responded to, acted upon, or elaborated into a new entity. Writers make things that matter—treaties, new species, software, and letters to the editor—as they interact with other humans of all kinds. As they write, they also continually remake themselves. In The Animal Who Writes, Cooper considers writing as a social practice and as an embodied behavior that is particularly important to human animals. The author argues that writing is an act of composing enmeshed in nature-cultures and is homologous with technology as a mode of making."
Minutes of Glory and Other Stories (The New Press), by Ngũgĩ wa Thiong'o
"Ngũgĩ wa Thiong'o, although renowned for his novels, memoirs, and plays, honed his craft as a short story writer. From 'The Fig Tree' ('Mugumo' in this collection), written in 1960, his first year as an undergraduate at Makerere University College in Uganda, to the playful 'The Ghost of Michael Jackson,' written as a professor at the University of California, Irvine, these collected stories reveal a master of the short form. Covering the period of British colonial rule and resistance in Kenya to the bittersweet experience of independence—and including two stories that have never before been published in the United States—Ngũgĩ's collection features women fighting for their space in a patriarchal society; big men in their Bentleys who have inherited power from the British; and rebels who still embody the fighting spirit of the downtrodden. One of Ngũgĩ's most beloved stories, 'Minutes of Glory,' tells of Beatrice, a sad but ambitious waitress who fantasizes about being feted and lauded over by the middle-class clientele in the city's beer halls. Her dream leads her on a witty and heartbreaking adventure. Published for the first time in America, Minutes of Glory and Other Stories is a major literary event that celebrates the storytelling might of one of Africa's best-loved writers."
Flashback Hotel (Archipelago Books), by Ivan Vladislavić
"With a tender wit, Vladislavić cuts through the ordinary, the profound, and the truly perplexing to reveal absurdities and truisms alike. From a man who forms a strong emotional attachment to his neighbor's wall to the etymology-obsessed inventor of the Omniscope, Vladislavic's characters are as well-constructed as his sentences and as playful as his prose. Flashback Hotel collects two volumes of short stories by one of contemporary South Africa's most acclaimed novelists."
Girl Zoo (FC2), Aimee Parkison and Carol Guess 
"A dark yet playful collection of short stories that pushes boundaries and blurs the lines between the real and surreal. Girl Zoo is an enthralling and sometimes unsettling collection of short stories that examines how women in society are confined by the limitations and expectations of pop culture, politics, advertising, fashion, myth, and romance. In each story, a woman or girl is literally confined or held captive, and we can only watch as they are transformed into objects of terror and desire, plotting their escape from their cultural cages.  Taken as a whole, this experimental speculative fiction invites parallels to social justice movements focused on sexuality and gender, as well as cautionary tales for our precarious political movement. Parkison and Guess offer no solutions to their characters' captivity. Instead, they challenge their audience to read against the grain of conventional feminist dystopian narratives by inviting them inside the 'Girl Zoo' itself.  Take a step inside the zoo and see for yourself. We dare you. Behind the bars, a world of wonder awaits."
Once into the Night (FC2), by Aurelie Sheehan
"Once into the Night is a collection of 57 brief stories, a fictional autobiography made of assumed identities and what-ifs. Here, the inner life is granted pride of place, with truths found in misremembered childhood notebooks, invisible tattoos, and the love life of icemen. Radical in its conception of story, this collection is also welcoming and relatable. Once into the Night blurs the line between fiction, poetry, and essay, as it reconceives contemporary autofiction in its own witty, poignant vernacular."
Choke Box: A Fem-Noir (University of Massachusetts Press), by Christina Milletti
"When Edward Tamlin disappears while writing his memoir, Jane Tamlin (his wife and the mother of his young children) begins to write a secret, corrective 'counter-memoir' of her own. Calling the book Choke Box, she reveals intimate, often irreverent, details about her family and marriage, rejecting—and occasionally celebrating—her suspected role in her husband's disappearance. Choke Box isn't Jane's first book. From her room in the Buffalo Psychiatric Institute, she slowly reveals a hidden history of the ghost authorship that has sabotaged her family and driven her to madness. Her latest work, finally written under her own name, is designed to reclaim her dark and troubled story. Yet even as Jane portrays her life as a wife, mother, and slighted artist with sardonic candor, her every word is underscored by one belief above all others: the complete truth is always a secret. But the stories we tell may help us survive—if they don't kill us first."
March
Gristle (Stalking Horse Press), by Jordan A. Rothacker
"Gristle is alchemical theatre…a collection of weird tales…twelve fingers on the steering wheel with D. H. Lawrence and Sylvia Plath sleeping across the back seat and Chekhov shivering on the hard shoulder…Gristle is the post-beat riddle, a comedy, a cool nightmare…Gristle is Salinger descending from his eyrie with a bottle of thunderbird…Jordan A. Rothacker has stolen a dream car…the road double back upon itself, but the riders are still lost…sincerity and foolishness glow from the map…follow, follow, the moon is over the blacktop and the canny ghosts and story serpents are coming out…"
Eeg (New Directions), by Daša Drndic
"An urgent new novel about death, war, and memory from the highly acclaimed Croatian writer. In this masterful final work, Daša Drndic's combative, probing voice reaches new heights. In her relentless search for truth she delves into the darkest corners of our lives. And as she chastises, she atones. Andreas Ban failed in his suicide attempt. Even as his body falters and his lungs constrict, he taps on the glass of history—an impenetrable case filled with silent figures—and tries to summon those imprisoned within. Mercilessly, fearlessly, he continues to dissect society and his environment, shunning all favors as he goes after evil and the hidden secrets of others. History remembers the names of perpetrators, not of the victims. Ban travels from Rijeka and Rovinj to Istria, from Belgrade to Toronto, from Parisian avenues to Italian castles. Ghosts follow him wherever he goes: chess grandmasters who disappeared during WWII; the lost inhabitants of Latvia; war criminals who found work in the CIA and died peacefully in their beds. Ban's family is with him too: those he has lost and those with one foot in the grave. As if left with only a few pieces in a chess game, Andreas Ban plays a stunning last match against Death."
River of Fire (New Directions), by Qurratulain Hyder
"The most important novel of twentieth-century Urdu fiction, Qurratulain Hyder's River of Fire encompasses the fates of four recurring characters over two and a half millennia. These characters become crisscrossed and strangely inseparable over different eras, forming and reforming their relationships in romance and war, in possession and dispossession. River of Fire interweaves parables, legends, dreams, diaries, and letters, forming a rich tapestry of history and human emotions and redefining Indian identity. But above all, it's a unique pleasure to read Hyder's singular prose style: 'Lyrical and witty, occasionally idiosyncratic, it is always alluring and allusive: Flora Annie Steel and E. M. Forster encounter classical Urdu poets; Eliot and Virginia Woolf meet Faiz Ahmed Faiz' (The Times Literary Supplement)."
Now, Now, Louison (New Directions), by Jean Frémon; translated by Cole Swensen
"The extraordinary artist, the spider woman, the intellectual, the rebel, the sly enchantress, and the 'good girl' sing together in this exuberant, lithe text beautifully translated by Cole Swensen. This brilliant portrait of the renowned artist Louise Bourgeois (1911– 2010) shows a woman who was devoted to her art and whose life was also that of her century. The art world's grande dame and its shameless old lady, spinning personal history into works of profound strangeness, speaks with her characteristic insolence and wit, through a most discreet, masterful writer. From her childhood in France to her exile and adult life in America, to her death, this phosphorescent novella describes Bourgeois's inner life as only one artist regarding another can. Included as an afterword is Frémon's essay about his own "portrait writing" and how he came to know and work with Louise Bourgeois."
The Silk Road (Graywolf), by Kathryn Davis
"The Silk Road begins on a mat in yoga class, deep within a labyrinth on a settlement somewhere in the icy north, under the canny guidance of Jee Moon. When someone fails to arise from corpse pose, the Astronomer, the Archivist, the Botanist, the Keeper, the Topologist, the Geographer, the Iceman, and the Cook remember the paths that brought them there—paths on which they still seem to be traveling. The Silk Road also begins in rivalrous skirmishing for favor, in the protected Eden of childhood, and it ends in the harrowing democracy of mortality, in sickness and loss and death. Kathryn Davis's sleight of hand brings the past, present, and future forward into brilliant coexistence; in an endlessly shifting landscape, her characters make their way through ruptures, grief, and apocalypse, from existence to nonexistence, from embodiment to pure spirit. Since the beginning of her extraordinary career, Davis has been fascinated by journeys. Her books have been shaped around road trips, walking tours, hegiras, exiles: and now, in this triumphant novel, a pilgrimage. The Silk Road is her most explicitly allegorical novel and also her most profound vehicle; supple and mesmerizing, the journey here is not undertaken by a single protagonist but by a community of separate souls—a family, a yoga class, a generation. Its revelations are ravishing and desolating."
Deaf Republic (Graywolf), by Ilya Kaminsky
"Deaf Republic opens in an occupied country in a time of political unrest. When soldiers breaking up a protest kill a deaf boy, Petya, the gunshot becomes the last thing the citizens hear—all have gone deaf, and their dissent becomes coordinated by sign language. The story follows the private lives of townspeople encircled by public violence: a newly married couple, Alfonso and Sonya, expecting a child; the brash Momma Galya, instigating the insurgency from her puppet theater; and Galya's girls, heroically teaching signs by day and by night luring soldiers one by one to their deaths behind the curtain. At once a love story, an elegy, and an urgent plea—Ilya Kaminsky's long-awaited Deaf Republic confronts our time's vicious atrocities and our collective silence in the face of them."
Generation Citizen: The Power of Youth in Our Politics (Counterpoint),
by Scott Warren
"Championing the activism of young people around the world, Generation Citizen is an empowering reminder of the positive power of politics, and an inspiring, actionable guide for anyone ready to fight for democracy. America is at a crossroads. We are alienated from civic engagement, and our democracy is in doubt. Yet there is a new energy in the air. Young people are again taking up the role they've often held: as leaders of change, demanding a better future, wielding their votes to uphold democracy and lead the country forward. Enter Generation Citizen, an organization dedicated to empowering youth through revitalizing civics education across America. Since its beginnings in 2009 during CEO and cofounder Scott Warren's senior year at Brown, Generation Citizen has grown to become one of the preeminent civics education organizations in the country. Generation Citizen: The Power of Youth in Our Politics details Warren's political awakening alongside stories of how young people have always been the instruments of political change. Generation Citizen is also a practical guide, providing concrete steps to jumpstart an engagement with politics and rekindle our love of democracy. Through interviews with students and historical portraits of young people who have enacted great political change―from the civil rights movement to the election of Ronald Reagan to #BlackLivesMatter and the Parkland students' standing up to gun violence―Generation Citizen shows that time and again, it is the young people who lead the way to change."
Joy: And 52 Other Very Short Stories (Counterpoint), by Erin McGraw
"Widely celebrated, Erin McGraw returns with her strongest collection yet, stories that will haunt you and amuse you and are impossible to forget. Claire Messud described Erin McGraw's last collection of stories as "at once laugh-out-loud funny and utterly serious, [exploring] life's profundity through its details." This is even more true with McGraw's new collection, Joy. In these very short stories, narrators step out of themselves to explain their lives to us, sometimes defensively, sometimes regretfully, other times deceitfully. Voices include those of the impulsive first-time murderer, the depressed pet sitter, the assistant of Patsy Cline, the anxiety-riddled new mother, the aged rock-and-roller, the girlfriend of your husband―human beings often (incredibly) unaware of the turning points staring them in the face. Crossing time, states, class, and religions, McGraw's stories are on the edge, causing you to wince even as you laugh. And McGraw will draw you to a deep need to read some sentences aloud―a sweet voice, a shrewd insight, some uneasy charm."
The Absent Hand: Reimagining Our American Landscape (Counterpoint),
by Suzannah Lessard
"This engrossing work of literary nonfiction is a deep dive into our surroundings—cities, countryside, and sprawl—exploring change in the meaning of place, and reimagining our American landscape. Following her bestselling The Architect of Desire, Suzannah Lessard returns with a remarkable book, a work of relentless curiosity and a graceful mixture of observation and philosophy. This intriguing hybrid will remind some of W. G. Sebald's work and others of Rebecca Solnit's, but it is Lessard's singular talent to combine this profound book-length mosaic—a blend of historical travelogue, reportorial probing, philosophical meditation, and prose poem—into a work of unique genius, as she describes and reimagines our landscapes. In this exploration of our surroundings, The Absent Hand contends that to reimagine landscape is a form of cultural reinvention. This engrossing work of literary nonfiction is a deep dive into our surroundings—cities, countryside, and sprawl—exploring change in the meaning of place and reimagining the world in a time of transition. Whether it be climate change altering the meaning of nature, or digital communications altering the nature of work, the effects of global enclosure on the meaning of place are panoramic, infiltrative, inescapable. No one will finish this book, this journey, without having their ideas of living and settling in their surroundings profoundly enriched."
Naked Thoughts (Black Sun Lit), by Róbert Gál; translated from the Slovak by David Short
"Heralded by Joshua Cohen as 'The Aphorism Master,' Róbert Gál revives the forgotten art of the philo-poetic line with vicious wit and tremendous dexterity. Naked Thoughts—his fourth book to be translated into English—is at once incendiary and revelatory, surprising and instinctual, defiant and delicate, and dares to pursue and give expression to those fugitive inspirations of the mind whose very beauty relies on their performance of contention with the structures of meaning by which they are snared and signified. Weighing the balance between the intensity of emotion and patient contemplation, Naked Thoughts is a book that will satisfy voyeurs and arsonists."
Besotted (7.13 Books), by Melissa Duclos
"Besotted is the ballad of Sasha and Liz, American expats in Shanghai. Both have moved abroad to escape—Sasha from her family, Liz from a broken engagement. When they move in together, Sasha finds herself considering a future with Liz, who is far less certain. For fans of Prague by Arthur Phillips and The Expatriates by Janice Y.K. Lee, Besotted is an expat novel that explores what it means to love someone while running away from yourself."
Not Everyone Is Special (7.13 Books), by Josh Denslow
"A teen who can teleport just wants to make his mom happy. A midget working as an elf in a year-round Christmas-themed amusement park battles his archrival: a condescending Santa. You've heard of Fight Club, but have you been to the Underground Punch Market? Like the work of George Saunders crossed with Richard Linklater, Not Everyone Is Special is a collection of slacker fabulist stories that are at once speculative, hilarious, and poignant."
Portrait of Sebastian Khan (7.13 Books), by Aatif Rashid
"Sebastian Khan is 380 days away from the end of college. An art history major who's as much a connoisseur of members of the opposite sex as he is of Pre-Raphaelite paintings, Sebastian starts dating Fatima, a Muslim American determined to transition smoothly from campus life to a stable white-collar professional career. Sebastian's membership in Model United Nations, though, takes him to college campuses all around North America, testing his commitment to Fatima and his readiness for adulthood. Portrait of Sebastian Khan is a humorous coming-of-age novel about a charismatic but emotionally stunted Muslim American Don Draper, who wins as many hearts as he breaks."
The Word for Woman Is Wilderness (Two Dollar Radio), by Abi Andrews
"This is a new kind of nature writing—one that crosses fiction with science writing and puts gender politics at the center of the landscape. Erin, a 19-year-old girl from middle England, is travelling to Alaska on a journey that takes her through Iceland, Greenland, and across Canada. She is making a documentary about how men are allowed to express this kind of individualism and personal freedom more than women are, based on masculinist ideas of survivalism and the shunning of society: the 'Mountain Man.' She plans to culminate her journey with an experiment: living in a cabin in the Alaskan wilderness, a la Thoreau, to explore it from a feminist perspective. The book is a fictional time-capsule curated by Erin from this time comprising of personal narrative, fact, anecdote, images and maps, on subjects as diverse as The Golden Records, Voyager 1, the moon landings, the appropriation of native land and culture, Rachel Carson, The Order of The Dolphin, The Doomsday Clock, Ted Kaczynski, Valentina Tereshkova, Jack London, Thoreau, Darwin, Nuclear war, The Letters of Last Resort and the pill, amongst many other topics."
All the Fierce Tethers (Sarabande Books), by Lia Purpura
"A trailblazer of the contemporary essay, Purpura meditates on existential subjects as diverse as eagles, irony, shadows, racially-divided neighborhoods, and the idea of beauty."
Fugitive Assemblage (Kernpunkt Press), by Jennifer Calkins
"It's 1983. A woman drives through California with something in her trunk. There are ghosts on the road and she is on the run."
The Besieged City (New Directions), by Clarice Lispector
"Clarice Lispector wrote The Besieged City in Switzerland ('a cemetery of sensations'), where her diplomat husband was posted, in 1948. 'What saved me from the monotony of Bern,' Clarice stated, 'was living in the Middle Ages and writing The Besieged City…my gratitude to that book is enormous: the effort of writing it saved my life.' Perhaps written in flight from the 'shipwreck of introspection,' it is a book unlike any other in the Lispector canon, a novel about simply seeing the external world. Its heroine Lucrécia is utterly mute and unreflective. She may have no inner life. Moreover, the plot itself is utterly unlike any other Lispector narrative: small town gal marries rich man, sees the world, and lives happily ever after. That said, there are miraculous horses, linguistic ecstasies, catty remarks, minor characters' visions, music from unknown sources. But centrally, there is Lucrécia, the heroine free of the burden of thought, who 'leaned over without any individuality, trying merely to look at things directly.' And yet her 'mere' looking leads, as Lispector's biographer Benjamin Moser notes, 'paradoxically but inevitably, to Clarice's own metaphysical concerns. As it turns out, not being profound is simply another way of being profound.'"
The Fox and Dr. Shimamura (New Directions), by Christine Wunnicke
"The Fox and Dr. Shimamura toothsomely encompasses Japan and Europe, memory and actuality, fox-possession myths and psychiatric mythmaking. The novel begins near the story's end, in Dr. Shimamura's retirement. A feverish invalid, he's watched over by four women: his wife, his mother, his mother-in-law, and a nurse (originally one of his psychiatric patients). His mother is busily writing and rewriting his biography, Between Genius and Madness. As an outstanding young Japanese medical student at the end of the nineteenth century, Dr. Shimamura is sent—to his dismay—to the provinces: he is asked to cure scores of young women of an epidemic of fox possession. He considers the assignment a joke, believing it's all a hoax, until he sees a fox moving under the skin of a beauty. He comes to believe not just in fox possession, but also that he in fact 'cured' the young woman with a kiss, by breathing in the fox demon (the root of his lifelong fever). Next he travels to Europe and works with such luminaries as Charcot, Breuer and (briefly) Freud himself (whose methods he concludes are incompatible with Japanese politeness). The ironic parallels between Charcot's hack theories of female 'hysteria' and Japanese ancient folklore—when it comes to beautiful writhing young women–are handled with a lightly sardonic touch by Christine Wunnicke, whose flavor-packed language is a delight."
Meander Spiral Explode (Catapult), by Jane Alison
"As Jane Alison writes in the introduction to her insightful and appealing book about the craft of writing: 'For centuries there's been one path through fiction we're most likely to travel—one we're actually told to follow—and that's the dramatic arc: a situation arises, grows tense, reaches a peak, subsides…But something that swells and tautens until climax, then collapses? Bit masculo-sexual, no? So many other patterns run through nature, tracing other deep motions in life. Why not draw on them, too?' W. G. Sebald's Emigrants was the first novel to show Alison how forward momentum can be created by way of pattern, rather than the traditional arc—or, in nature, wave. Other writers of nonlinear prose considered in her "museum of specimens" include Nicholson Baker, Anne Carson, Marguerite Duras, Gabriel García Márquez, Jamaica Kincaid, Clarice Lispector, Susan Minot, David Mitchell, Caryl Phillips, and Mary Robison. Meander, Spiral, Explode is a singular and brilliant elucidation of literary strategies that also brings high spirits and wit to its original conclusions. It is a liberating manifesto that says, Let's leave the outdated modes behind and, in thinking of new modes, bring feeling back to experimentation. It will appeal to serious readers and writers alike."
The Tradition (Copper Canyon), by Jericho Brown
"The Tradition details the normalization of evil and its history at the intersection of the past and the personal. Brown's poetic concerns are both broad and intimate, and at their very core a distillation of the incredibly human: What is safety? Who is this nation? Where does freedom truly lie? Brown makes mythical pastorals to question the terrors to which we've become accustomed, and to celebrate how we survive. Poems of fatherhood, legacy, blackness, queerness, worship, and trauma are propelled into stunning clarity by Brown's mastery, and his invention of the duplex―a combination of the sonnet, the ghazal, and the blues―is testament to his formal skill. The Tradition is a cutting and necessary collection, relentless in its quest for survival while revelling in a celebration of contradiction."
Soft Science (Alice James), by Franny Choi
"'Franny Choi's Soft Science offers an exceptional exploration both of all that comprises the intimate and of all that consumes the communal in our lives. Whether tracking the adventures of the "cyborg" or eavesdropping on conversations between sisters, it's all the same world. These striking poems ring through with a singular voice, creating a society that helps us understand our own. When you open a book of poems, "isn't that what you came to see?" Choi builds a world not only of striking beauty and lucid politics, but also, most importantly, with love.'—A. Van Jordan"
Brute (Graywolf), by Emily Skaja
"Emily Skaja's debut collection is a fiery, hypnotic book that confronts the dark questions and menacing silences around gender, sexuality, and violence. Brute arises, brave and furious, from the dissolution of a relationship, showing how such endings necessitate self-discovery and reinvention. The speaker of these poems is a sorceress, a bride, a warrior, a lover, both object and agent, ricocheting among ways of knowing and being known. Each incarnation squares itself up against ideas of feminine virtue and sin, strength and vulnerability, love and rage as it closes in on a hard-won freedom. Brute is absolutely sure of its capacity to insist not only on the truth of what it says but the truth of its right to say it. 'What am I supposed to say: I'm free?' the first poem asks. The rest of the poems emphatically discover new ways to answer. This is a timely winner of the Walt Whitman Award, and an introduction to an unforgettable voice."
The Gulf (Graywolf), by Belle Boggs
"Marianne is in a slump: barely able to support herself teaching, not making progress on her poetry, about to lose her Brooklyn apartment. When her novelist ex-fiancé, Eric, and his venture capitalist brother, Mark, offer her a job directing a low-residency school for Christian writers at a motel they've inherited on Florida's Gulf Coast, she can't come up with a reason to say no. The Genesis Inspirational Writing Ranch is born, and liberal, atheist Marianne is soon knee-deep in applications from writers whose political and religious beliefs she has always opposed, but whose money she's glad to take. Janine is a schoolteacher whose heartfelt poems explore the final days of Terri Schiavo's life. Davonte is a former R&B superstar who hopes to reboot his career with a best-selling tale of excess and redemption. Lorraine and Tom, eccentric writers in need of paying jobs, join the Ranch as instructors. Mark finds an investor in God's Word God's World, a business that develops for-profit schools for the Christian market, but the strings that come along with their support become increasingly problematic, especially as Marianne grows closer to the students. As unsavory allegations mount, a hurricane bears down on the Ranch, and Marianne is faced with the consequences of her decisions. With sharp humor and deep empathy, in this timely debut novel Belle Boggs plumbs the troubled waters dividing America."
The Polyglot Lovers (& Other Stories), by Lina Wolff; translated by Saskia Vogel
"Ellinor is thirty-six. She wears soft black sweatpants and a Michelin Man jacket. She fights. Smart and unsentimental, she tries her hand at online dating, only to be stranded by a snowstorm with a literary critic. Cut to Max Lamas, an author who dreams of a polyglot lover, a woman who will understand him—in every tongue. His search takes him to Italy, where he befriends a marchesa whose old Roman family is on the brink of ruin. At the heart of this literary intrigue is a handwritten manuscript that leaves no one unaffected. The Polyglot Lovers is a fiercely witty and nuanced contribution to feminism in the #metoo era. Pleasure is an elusive thing, love even more so."
Woods and Clouds Interchangeable (Wave Books), by Michael Earl Craig
"With his fifth collection of poems, Michael Earl Craig delivers a fresh set of tableaux that have us squinting aslant at the ordinary. Dexterously constructed, the scenes, conversations, letters, instructions, stories, bios, and little fables of Woods and Clouds Interchangeable twist the comedic into shapes of startling seriousness, making us laugh at the same time they widen the dimensions of the world we live in."
Correspondence (Seagull Books), by Ingeborg Bachmann and Paul Celan;
translated by Wieland Hoban
"Paul Celan (1920–70) is one of the best-known German poets of the Holocaust; many of his poems, admired for their spare, precise diction, deal directly with its stark themes. Austrian writer Ingeborg Bachmann (1926–73) is recognized as one of post–World War II German literature's most important novelists, poets, and playwrights. It seems only appropriate that these two contemporaries and masters of language were at one time lovers, and they shared a lengthy artful and passionate correspondence. Collected here for the first time in English are their letters written between 1948 and 1961. Their correspondence forms a moving testimony of the discourse of love in the age after Auschwitz, with all the symptomatic disturbances and crises caused by their conflicting backgrounds and their hard-to-reconcile designs for living—as a woman, as a man, as writers. In addition to the almost 200 letters, the volume includes an important exchange between Bachmann and Gisèle Celan-Lestrange, who married Celan in 1951, as well as the letters between Paul Celan and Swiss writer Max Frisch."
Soft Targets (Copper Canyon), by Deborah Landau
"Deborah Landau's fourth book of poetry, Soft Targets, draws a bullseye on humanity's vulnerable flesh and corrupted world. In this ambitious lyric sequence, the speaker's fear of annihilation expands beyond the self to an imperiled planet on which all inhabitants are 'soft targets.' Her melancholic examinations recall life's uncanny ability to transform ordinary places―subways, cafes, street corners―into sites of intense significance that weigh heavily on the modern mind."
Prince of Monkeys (Counterpoint), by Nnamdi Ehirim
"A provocative debut novel by a brilliant young Nigerian writer, tackling politics, class, spirituality, and power as a group of friends come of age in Lagos. Growing up in middle-class Lagos, Nigeria during the late 1980s and early 1990s, Ihechi forms a band of close friends discovering Lagos together as teenagers with differing opinions of everything from film to football, Fela Kuti to spirituality, sex to politics. They remain close-knit until tragedy unfolds during an anti-government riot. Exiled from Lagos by his concerned mother, Ihechi moves in with his uncle's family, where he struggles to find himself outside his former circle of friends. Ihechi eventually finds success by leveraging his connection with a notorious prostitution linchpin and political heavyweight, earning favor among the ruling elite. But just as Ihechi is about to make his final ascent into the elite political class, he reunites with his childhood friends and experiences a crisis of conscience that forces him to question his world, his motives, and whom he should become. Nnamdi Ehirim's debut novel, Prince of Monkeys, is a lyrical, meditative observation of Nigerian life, religion, and politics at the end of the twentieth century."
Dark Constellations (Soho Press), by Pola Oloixarac; translated by Roy Kesey
"Argentinian literary star Pola Oloixarac's visionary ambitious second novel investigates humanity's quest for knowledge and control, hurtling from the 19th century mania for scientific classification to present-day mass surveillance and the next steps in human evolution. Canary Islands, 1882: Caught in the 19th-century wave of scientific classification, explorer and plant biologist Niklas Bruunis researches Crissia pallida, a species alleged to have hallucinogenic qualities capable of eliminating the psychic limits between one human mind and another. Buenos Aires, 1983: Born to a white Argentinian anthropologist and a black Brazilian engineer, Cassio comes of age with the Internet, and demonstrates the skills and personality that will make him one of the first great Argentine hackers. The southern Argentinian techno-hub of Bariloche, 2024: Piera, on the same research group as Cassio, studies human DNA. When the Estromatoliton project comes to fruition, the Argentine government will be able to track every movement of its citizens without their knowledge or consent, using censors that identify DNA at a distance. In a dazzling novel of towering ambition, Oloixarac proves that true strength resides in the world's most deeply shadowed interstices, as beautiful and horrifying as dark constellations themselves."
How To Do Nothing: Resisting the Attention Economy (Melville House), by Jenny Odell
"A galvanizing critique of the forces vying for our attention—and our personal information—that redefines what we think of as productivity, reconnects us with the environment, and reveals all that we've been too distracted to see about ourselves and our world. Nothing is harder to do these days than nothing. But in a world where our value is determined by our 24/7 data productivity…doing nothing may be our most important form of resistance. So argues artist and critic Jenny Odell in this field guide to doing nothing (at least as capitalism defines it). Odell sees our attention as the most precious—and overdrawn—resource we have. Once we can start paying a new kind of attention, she writes, we can undertake bolder forms of political action, reimagine humankind's role in the environment, and arrive at more meaningful understandings of happiness and progress. Far from the simple anti-technology screed, or the back-to-nature meditation we read so often, How to do Nothing is an action plan for thinking outside of capitalist narratives of efficiency and techno-determinism. Provocative, timely, and utterly persuasive, this book is a four-course meal in the age of Soylent."
Plum Rains (Soho Press), by Andromeda Romano-Lax
"In a tour-de-force tapestry of science fiction and historical fiction, Andromeda Romano-Lax presents a story set in Japan and Taiwan that spans a century of empire, conquest, progress, and destruction. 2029: In Japan, a historically mono-cultural nation, childbirth rates are at an all-time low and the elderly are living increasingly longer lives. This population crisis has precipitated the mass immigration of foreign medical workers from all over Asia, as well as the development of finely tuned artificial intelligence to step in where humans fall short. In Tokyo, Angelica Navarro, a Filipina nurse who has been in Japan for the last five years, works as caretaker for Sayoko Itou, a moody, secretive woman about to turn 100 years old. One day, Sayoko receives a present: a cutting-edge robot "friend" that will teach itself to anticipate Sayoko's every need. Angelica wonders if she is about to be forced out of her much-needed job by an inanimate object—one with a preternatural ability to uncover the most deeply buried secrets of the humans around it. Meanwhile, Sayoko becomes attached to the machine. The old woman has been hiding secrets of her own for almost a century—and she's too old to want to keep them anymore. What she reveals is a hundred-year saga of forbidden love, hidden identities, and the horrific legacy of WWII and Japanese colonialism—a confession that will tear apart her own life and Angelica's. Is the helper robot the worst thing that could have happened to the two women—or is it forcing the changes they both desperately needed?"
The Good Mother of Marseille (Paloma Press), Christopher X. Shade
"It's the summer of 2013 in Marseille, in the year of its designation as the European Capital of Culture—tourists come to see. Americans wander and sightsee this dangerous, impoverished yet seductive city. Noemie is from Montreal, and she wants to stay."
Optic Nerve (Catapult), by María Gainza
"The narrator of Optic Nerve is an Argentinian woman whose obsession is art. The story of her life is the story of the paintings, and painters, who matter to her. Her intimate, digressive voice guides us through a gallery of moments that have touched her. In these pages, El Greco visits the Sistine Chapel and is appalled by Michelangelo's bodies. The mystery of Rothko's refusal to finish murals for the Seagram Building in New York is blended with the story of a hospital in which a prostitute walks the halls while the narrator's husband receives chemotherapy. Alfred de Dreux visits Géricault's workshop; Gustave Courbet's devilish seascapes incite viewers 'to have sex, or to eat an apple'; Picasso organizes a cruel banquet in Rousseau's honor….All of these fascinating episodes in art history interact with the narrator's life in Buenos Aires—her family and work; her loves and losses; her infatuations and disappointments. The effect is of a character refracted by environment, composed by the canvases she studies. Seductive and capricious, Optic Nerve marks the English-language debut of a major Argentinian writer. It is a book that captures, like no other, the mysterious connections between a work of art and the person who perceives it."
The Tiniest Muzzle Sings Songs of Freedom (Wave Books), by Magdalena Zurawski
"Taking readers from suburban carports to wintry Russian novels, from summer tomato gardens to the sublime interiors of presleep thoughts, Magdalena Zurawski's poems anchor the complexities of our interconnected world in the singularity of the human experience. Balancing artistic experimentation with earnest expression, achingly real detail with dazzling prismatic abstraction, humor with frustration, light with dark, she offers a book of great human depth that is to be carried around, opened to anywhere, and encountered."
Make/Shift (Sarabande Books), by Joe Sacksteder
"Performers—athletes, artists, and other players of games unwittingly find themselves at the center of larger and more dire spectacles than they'd anticipated."
Great American Desert (Ohio State Press), by Terese Svoboda
"Water, its use and abuse, trickles through Great American Desert, a story collection by Terese Svoboda that spans the misadventures of the prehistoric Clovis people to the wanderings of a forlorn couple around a pink pyramid in a sci-fi prairie. In 'Dutch Joe,' the eponymous hero sees the future from the bottom of a well in the Sandhills, while a woman tries to drag her sister back from insanity in 'Dirty Thirties.' In 'Bomb Jockey,' a local Romeo disposes of leaky bombs at South Dakota's army depot. A family quarrels in 'Ogallala Aquifer' as a thousand trucks dump chemical waste next to their land. Bugs and drugs are devoured in 'Alfalfa,' a disc jockey talks her way out of a knifing in 'Sally Rides,' and an updated Pied Piper begs parents to reconsider in 'The Mountain.' The consequences of the land's mistreatment is epitomized in the final story by a discovery inside a pink pyramid. In her arresting and inimitable style, Svoboda's delicate handling of the complex dynamics of family and self seeps into every sentence of these first-rate short stories about what we do to the world around us—and what it can do to us."
The Art Is a Lonely Hunter (Post House Books), by Joe Pan
"He, as he is known, is a once-famous film auteur who has just blown himself up in a suicide pact with his wife, an act involving a grenade and a rowboat on the tranquil Lake in Central Park. What follows constitutes his final manuscript, a strange and dynamic autobiography, told in verse. The visionary director relished his provocative time in showbiz before the weight of the carnivorous motion picture industry forced him into seclusion, where he reprised his beloved role of experimental poet. This thin volume charts He's time as a juvenile delinquent, stealing hot dogs to feed his family, before a brief stint pitching in the major leagues. Fighting to make something of himself, He signed up for a scriptwriting course at a local community college where an alcoholic mentor introduced him to television writing, a fortuitous event that would carry his ambition all the way to Sundance, and later, the Academy Awards. The Art Is a Lonely Hunter is a wondrous book of philosophy and pleasure, grand narratives, tribulations and their triumphs, and a deep longing for love and recognition."
"'The Truth Is Not the Truth.' — Unless We Fight for It Nail and Tooth. In an era of 'alternative facts,' where our POTUS has labeled the press the enemy of the people and coined the term 'fake news,' truth and lies are duking it out in a battle for the soul of our country. In Martin Ott's groundbreaking
Fake News Poems
—52 Weeks, 52 headlines, 52 poems—he uses news headlines as launch pads for poems that are political, personal, and powerfully encapsulate the themes of 2017."
May
Baron Wenckheim's Homecoming (New Directions), by László Krasznahorkai
"Set in contemporary times, Baron Wenckheim's Homecoming tells the story of a Prince Myshkin–like figure, Baron Bela Wenckheim, who decides to re­turn at the end of his life to the provincial Hungarian town of his birth. Having escaped from his many casino debts in Buenos Aires, where he was living in exile, he wishes to be reunited with his high school sweetheart Marika. What follows is an endless storm of gossip, con men, and local politicians, vividly evoking the small town's alternately drab and absurd existence. All along, the Professor—a world-famous natural scientist who studies mosses and inhabits a bizarre Zen-like shack in a desolate area outside of town—offers long rants and disquisitions on his own attempts to immunize himself from thought. Spectacu­lar actions are staged, death and the abyss loom, until finally doom is brought down on the unsuspecting residents of the town."
Hazel (Tupelo Press), by David Huddle
"Novel as cubist painting, Hazel is a portrait of a loner rigorously examining her life and her relationships within a small circle of people. David Huddle's latest book masterfully reveals an astonishingly complex woman's lifelong struggle. We often envision our lives as a dynamic but singular identity, but at a deeper level we understand we have very different lives at various stages of our lifespan. Hazel depicts its eponymous hero as Picasso might have painted her—in separate compositions arranged to convey a whole Hazel we couldn't ever know from any one segment of her life, suggesting the profound complexity of a life we would see if we could see it all at once."
The Man They Wanted Me to Be: Toxic Masculinity and Forging Another Way for Men (Counterpoint), by Jared Yates Sexton
"The author of The People Are Going to Rise Upon Your Shore turns his keen eye to our current crisis of masculinity using his upbringing in rural Indiana to examine the personal and societal dangers of the patriarchy. Based on his provocative and popular New York Times op-ed, The Man They Wanted Me to Be is both memoir and cultural analysis. Jared Yates Sexton alternates between an examination of his working class upbringing and historical, psychological, and sociological sources that examine the genesis of toxic masculinity and its consequences for society. As progressivism changes American society, and globalism shifts labor away from traditional manufacturing, the roles that have been prescribed to men since the Industrial Revolution have been rendered as obsolete. Donald Trump's campaign successfully leveraged male resentment and entitlement, and now, with Trump as president and the rise of the #MeToo movement, it's clear that our current definitions of masculinity are outdated and even dangerous. Deeply personal and thoroughly researched, The Man They Wanted Me to Be examines how we teach boys what's expected of men in America, and the long-term effects of that socialization―which include depression, shorter lives, misogyny, and suicide. Sexton turns his keen eye to the establishment of the racist patriarchal structure which has favored white men, and investigates the personal and societal dangers of such outdated definitions of manhood."
Pale Horse: A Novel of Revolutionary Russia (University of Pittsburgh Press),
by Boris Savinkov; translated by Michael R. Katz
'Translation of a Russian novel providing a fictionalized account of the assassination of grand duke Sergei Alexandrovich, written by the leader of the terrorist cell who actually organized the real murder."
Empty Words (Coffee House), by Mario Levrero; translated by Annie McDermott
"From a legendary cult figure in Latin American literature, the story of a writer who obsessively observes his own handwriting in search of answers about his identity. An eccentric novelist begins to keep a notebook of handwriting exercises, hoping that if he's able to improve his pen­manship, his personal character will also improve. What begins as a mere physical exercise becomes involuntarily colored by humorous reflections and tender anecdotes about living, writing, and the sense—or nonsense—of existence."
Exiles of Eden (Coffee House), by Ladan Osman
"Poems steeped in the Somali tradition refract the streets of Ferguson, the halls of Guantánamo, and the fields near Abu Ghraib through the myth of Adam and Eve to ask: What does it mean to be a refugee? Exiles of Eden looks at the origin story of Adam, Eve, and their exile from the Garden of Eden, exploring displacement and alienation from its mythological ori­gins to the present. Steeped in Somali nar­rative tradition yet formally experimental, Osman's poems give voice to the experi­ences and traumas of displaced people over multiple generations. The characters in these poems encounter exile's strangeness while processing the profoundly isolating experience of knowing that once you are sent out of Eden, you can't go back."
Keeping / the window open: Interviews, Statements, Alarms, Excursions (Wave Books), by Rosmarie Waldrop and Keith Waldrop; edited by Ben Lerner
"A rich array of materials coalesce here into a vibrant portrait, in text and image, of two extraordinary artists and collaborators. For nearly sixty years, the Waldrops have influenced multiple generations of writers through their own poetry and fiction, translations, teaching, and their press, Burning Deck, which published some of the most influential authors of late-twentieth-century avant-garde literature. This collection seeks to illustrate the many ways in which the Waldrops have expanded the possibilities of bookcraft, art, community, and literature."
Triangulum (Two Dollar Radio), by Masande Ntshanga
"Triangulum is an ambitious, often philosophical and genre-bending novel that covers a period of over 40 years in South Africa's recent past and near future — starting from the collapse of the apartheid homeland system in the early 1990s, to the economic corrosion of the 2010s, and on to the looming, large-scale ecological disasters of the 2040s. In 2040, the South African National Space Agency receives a mysterious package containing a memoir and a set of digital recordings from an unnamed woman who claims the world will end in ten years. Assigned to the case, Dr. Naomi Buthelezi, a retired professor and science-fiction writer, is hired to investigate the veracity of the materials, and whether or not the woman's claim to have heard from a 'force more powerful than humankind' is genuine. Thus begins TRIANGULUM, a found manuscript composed of the mysterious woman's memoir and her recordings. Haunted by visions of a mysterious machine, the narrator is a seemingly adrift 17-year-old girl, whose sick father never recovered from the shock of losing his wife. She struggles to navigate school, sexual experimentation, and friendship across racial barriers in post-Apartheid South Africa. When three girls go missing from their town, on her mother's birthday, the narrator is convinced that it has something to do with 'the machine' and how her mother also went missing in the '90s. Along with her friends, Litha and Part, she discovers a puzzling book on UFOs at the library, the references and similarities in which lead the friends to believe that the text holds clues to the narrators's mother's abduction. Drawing upon suggestions in the text, she and her friends set out on an epic journey that takes them from their small town to an underground lab, a criminal network, and finally, a mysterious, dense forest, in search of clues as to what happened to the narrator's mother. With extraordinary aplomb and breathtaking prose, Ntshanga has crafted an inventive and marvelous artistic accomplishment."
"Sifting through—and re-writing—the films of Godard, the novels of Henry James, Twin Peaks, VR fantasies, Internet ephemera, and his father's dreams of Cuba, Chris Campanioni reveals the materiality of our spaceless encounters, and forces us to reckon with the violence hidden below the sleek 4G surface. As he revisits his parents' migration to the United States and his own first-generation dislocation through a blur of poetry, prose, and screen-play, Campanioni shows us that in a culture of self-dissemination and unlimited arrivals, we are all exiles under the sign of a mythical return."
the sun a blazing zero (Lavender Ink/Dialogos), by Shira Dentz
"This unique and experimental project examines the intersections of image and word, examining traditions of Ezra Pound's poetry as a zone of maximum energy and André Breton's poetics of the 'explosante-fixe' through a feminist lens. The poet seeks to sustain a dynamic between deliberate and chance writing, providing a formal parallel to the tension between themes of elegy—through pauses, reverses, and halts—and dynamism—through a syntactic forward motion and flux. She exploits the aural, visual, and semantic dimensions of language in order to track the vibrations of a receding world that has not yet entirely vanished. Those worlds, receding from view but still barely visible, include climate change, animal preservation, effects of war, and a woman's vantage point on the cusp of aging. There is something noncommittal or unstable about a collection that doesn't dwell too long in one type of form or narrative; indeed, its very 'nature' is unsustained. Mina Loy wrote that poets 'present the map of their individuality without the secondary reconstruction of the pictorial coherence of our customary vision.' Every time we recognize someone's work 'it is by the singularity of this map of their aesthetic system.' the sun a blazing zero is more a map of experiences than a smooth geometric form. Many of the individual poems, products of free writing, disrupted through erasures and re-sequencing, discover juxtapositions of referential meanings, letter sounds and shapes, and syntactical ruptures that can serve as material in an assemblage of meaning—or affect. New words are created from the phonemes and vocables of surrounding language. The source material is recycled and 'degraded,' 'an abstraction of language' that moves towards an invented way to intensify a lyric field, to find something fresh, to articulate—usually female—experiences that lack a vocabulary, and/or to experience language anew, and/or to ride with—not rebut—the noise of information-overload in our contemporary psyches. Typography, too, and the visual space of the page is treated as malleable and expressive elements in writing. the sun a blazing zero is a collage of movement between the inner and outer, through which varied 'shutter speeds,' or a stream of mental events, weave the personal with the sociopolitical. The portrait of the 'I' constructed therein is aligned with Denise Levertov's notion of the poetic 'I' as an earthworm moving through the world by filling and emptying through it. Attention to the physical form of letters serves as a kind of mediation that has a correspondence in narrative to metafiction. By not ignoring the 'body' of writing, the poems align with the poetics of Kathleen Fraser, Susan Howe, and Jenny Boully, among others, in which the silence of the page evokes the present yet absent female, and play as an instinctive response to conventions that led Laura Mulvey to assert that feminists' ultimate challenge is 'how to fight the unconscious structured like a language while still caught within the language of the patriarchy.'"
June
The Color Inside a Melon (Dzanc), by John Domini
"A disastrous earthquake has Naples reeling. While the government scrambles to maintain appearances, poverty and anarchy rack the people on Italy's margins—the illegal immigrants out of Africa, known as the clandestini. One of whom has just been horrifically murdered. Enter amateur detective Risto. He's a rare success story: a refugee from Mogadishu, orphaned in his teens, he's now married the Neapolitan Paola and is the proprietor of a celebrated art gallery. The murder recalls the deaths of his loved ones years ago in Mogadishu, a trauma Risto can't outrun. Thinking to force the hand of the white authorities, Risto begins his own investigation. But once he starts playing detective, he quickly gets in over his head. Worse, his digging seems to have brought on a strange hallucination: a golden halo only he can see, like a visionary's foretelling of death. Everyone he knows, including the woman he loves, seems to brim with secrets; every discovery Risto makes drives him toward an earthquake of his own. A portrait of turmoil inside and out, The Color Inside a Melon explores race and class, belonging and exclusion in one of the world's ancient cities. Prolific author, critic, and essayist John Domini delivers an unforgettable portrait of humanity's endless struggle between moving on and making a home."
What Could be Saved (Tupelo Press), by Gregory Spatz
"In stories and novellas matched end-to-end like the twinned or 'bookmatched' pieces of tonewood that separately comprise a violin, What Could Be Saved winds its way through the hopes and dreams of builders, dealers and players caught up in the violin trade, a trade that is so unlike any other in the world. Blending viewpoints and storytelling techniques, including magical and psychological realism, moving from novella to story and back again, there is a sustained musicality that thrums through these beautiful, almost dream-like tales. Spatz's language is precise and powerful, his fiction elegantly wrought. What Could Be Saved transports you into the violin world, compelling you to witness its most tragic, comic and thoroughly human dramas. A book that echoes long after its music ends."
Herbert (New Directions), by Nabarun Bhattacharya; translated by Sunandini Banerjee
"The beloved cult novel—about a young man who makes a business of relaying messages from the dead—now in a sparkling English translation. Poor, poor, hard-luck Herbert Sarkar: born into a fancy Calcutta family but cursed from birth (his philandering movie director father is killed in a car crash and his mother dies soon after, when he's still just a baby), he is taken as an orphan into his uncle's house, only to fall further and further down the family totem pole. Despite good looks ('Hollywood-ish, Leslie Howard-ish') and na­tive talents, he is scorned by all but his kind aunt. Cheated of his inheritance, living on the roof in cast-off clothing, he pines for love, but all is woe: his own nephews beat him up. Poor Herbert: so lovable but so little loved. At twenty, however, he suddenly seems to possess the gift of speaking with the dead. Suddenly Herbert is bathed in glory. From less than zero to starry heights—what an apotheosis. But then the wheel of fortune turns again, all too soon. Legendary, scathingly satiric, wildly energetic, deeply tender, Herbert is an Indian masterwork."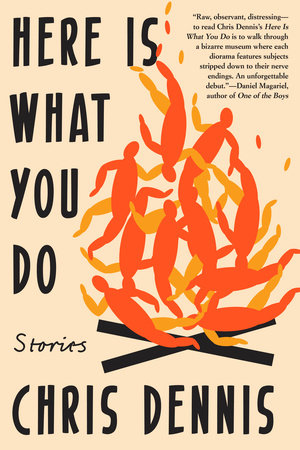 Here Is What You Do (Soho Press), by Chris Dennis
"A debut short story collection that explores the vulnerability, grit, and complex nature of our humanity from a new, vital queer voice. A yacht races to outrun a tsunami. A young man jailed on a drug charge forms a relationship with his cellmate that is by turns tender and brutal.  A family buys a rural slaughterhouse, and tensions quickly escalate between them and their religious neighbors.  A teen raised by his eccentric gay father, a Turkish immigrant, finds his life fractured by violence. A fictionalized Coretta Scott King, surveilled and harassed by the FBI, considers the costs of her life with her husband. Here Is What You Do is a bravura, far-ranging collection, its stories linked by sorrow and latent hope; each one drills toward his characters' darkest emotional centers. in muscularly robust prose, with an unfailing eye for human drives and frailties, Chris Dennis captures the raw need, desire, cruelty of characters trying to connect with, and consume, each other."
Juliet the Maniac (Melville House), by Juliet Escoria
"Debut coming-of-age novel from the 'indelible, shrewd and frank and real' (Emily Gould) writer DAZED describes as 'a combination of Denis Johnson and Joan Didion.' It's 1997, and 14-year-old Juliet has it pretty good. But over the course of the next two years, she rapidly begins to unravel, finding herself in a downward trajectory of mental illness and self-destruction. An explosive portrayal of teenage life from the perspective of The Bad Friend, Juliet the Maniac is a bold, stylish breakout book from an author already crackling on the indie scene."
Big Giant Floating Head (Melville House), by Christopher Boucher
"A masterful new novel brings us more of the 'strange brilliance' that has captivated readers. From the wildly inventive author of the novels How to Keep Your Volkswagen Alive and Golden Delicious comes a new novel unlike anything you have ever read. Suddenly, everything becomes slippery; A man grows a wall inside himself; A bookstore owner meets a woman with an invisible dog; hearts take vacations and language is kept in zoos. Boucher's novel brings us more of the 'strange brilliance'—in the words of Emily St. John Mandel—that drew readers to his novels."
Song for the Unraveling of the World (Coffee House), by Brian Evenson
"From a modern master of the form, a new short story collection that dexterously walks the tightrope between literary fiction, sci-fi, and horror. A newborn's absent face appears on the back of someone else's head, a film­maker goes to gruesome lengths to achieve the silence he's after for his final scene, and a therapist begins, impossibly, to appear in a troubled patient's room late at night. In these stories of doubt, delusion, and para­noia, no belief, no claim to objectivity, is immune to the distortions of human per­ception. Here, self-deception is a means of justifying our most inhuman impulses—whether we know it or not."
Time Is the Thing a Body Moves Through (Coffee House), by T Fleischmann
"How do the bodies we inhabit affect our relationship with art? How does art affect our relationship to our bodies? T Fleischmann uses Felix Gonzalez-Torres's artworks—piles of candy, stacks of paper, puzzles—as a path through questions of love and loss, violence and rejuvenation, gender and sexuality. From the back porches of Buffalo, to the galleries of New York and l.a., to farmhouses of rural Tennessee, the artworks act as still points, sites for reflection situated in lived experience. Fleischmann combines serious engagement with warmth and clarity of prose, reveling in the experiences and pleasures of art and the body, identity and community."
July
In Her Feminine Sign (New Directions), by Dunya Mikhail
"A brilliant poetic exploration of language and gender, place, and time, seen through the mirror of exile. At the heart of In Her Feminine Sign, Dunya Mikhail's luminous new collection of poems, is the Arabic suffix ta-marbuta, 'the tied circle,' a circle with two dots above it that indicates a feminine word, or sign. This tied circle transforms into the moon, a stone that binds friendship, birdsong over ruins, and a hymn to Nisaba, the goddess of writing. Her 'Iraqi haiku' in one section unfold like Sumerian symbols carved onto clay tablets, transmuted into the stuff of our ordinary, daily life and into the digital tablets we carry to Mars. In another poem, Mikhail ponders the Sumerian word for 'freedom,' Ama-ar-gi: 'what seeps out / from the dead into our dreams.' With a deceptive simplicity and disquieting humor reminiscent of Wisława Szymborska, and a lyricism wholly her own, Mikhail slips between her child­hood in Baghdad and her present life in Detroit, between Ground Zero and a mass grave, tracing new circles of light."
Kansastan (7.13 Books), by Farooq Ahmed
"Inspired by the American Civil War, Kansastan takes place in a dystopic Kansas that is besieged by its neighboring state, Missouri. Close to the state line, an orphaned Muslim boy lives atop a minaret and is relegated to custodial work by the mosque's imam while the threat of occupation looms. The boy plots to take over the mosque and then lead the parishioners into war against Missouri, but his plans are upstaged by the arrival of his aunt and cousin. When his cousin is hailed as a new prophet and given command of the mosque, the narrator executes his power grab, for which he is imprisoned by his cousin's followers as the faithful march on Missouri. Like Cormac McCarthy's The Road, but inspired by Islamic folklore and Quranic verses, Kansastan is a grim and harrowing look at the role of faith in America that is leavened by Ahmed's singular lyricism."
The Book of X (Two Dollar Radio), by Sarah Rose Etter
"The Book of X tells the tale of Cassie, a girl born with her stomach twisted in the shape of a knot. From childhood with her parents on the family meat farm, to a desk job in the city, to finally experiencing love, she grapples with her body, men, and society, all the while imagining a softer world than the one she is in. Twining the drama of the everyday—school-age crushes, paying bills, the sickness of parents—with the surreal—rivers of thighs, men for sale and fields of throats—Cassie's realities alternate to create a blurred, fantastic world of haunting beauty."
Mare Nostrum (Sarabande Books), by Khaled Mattawa
"In 2013, the Italian government implemented Mare Nostrum, an operation intended to limit immigration from Africa and the Middle East to European countries. For the refugees, the journeys were harrowing, and the arrivals were wracked with uncertainty. Acclaimed poet Khaled Mattawa conjures a pointed, incantatory account of the refugee experience during Operation Mare Nostrum. The voices are many and the lyrics ritualistic, as if Mattawa has stirred up ghosts from the wreckage."
August
United States of Distraction: Media Manipulation in Post-Truth America (And What We Can Do About It) (City Lights), by Mickey Huff and Nolan Higdon
"In United States of Distraction, media scholars Nolan Higdon and Mickey Huff offer a well-researched analysis of the essential roles media and journalism should play in a democracy, how years of corporate influence have eroded these roles, and how Trump's media tactics have exploited social vulnerabilities created as a result. The authors focus on how public susceptibility to celebrity entertainment, ultra-partisanship, and social media have been manipulated for political ends, ushering in what many refer to as the 'post-truth' era. Higdon and Huff conclude on a note of hope by offering concrete solutions for reforms in media, journalism and education—essential prerequisites for creating a more independent, democratic, and reason-based culture. An impassioned, timely call to action."
The Remainder (Coffee House), by Alia Trabucco Zerán; translated by Sophie Hughes
"A coffin, a camera, a bottle of pisco: three friends embark on a road trip through Chile to confront a history they can neither remember nor forget. Felipe and Iquela, two young friends liv­ing in modern-day Santiago, are plagued by the legacy of Chile's dictatorship. Felipe prowls the streets counting dead bodies real and imagined, aspiring to a perfect number that might offer closure. Iquela and Paloma, an old acquaintance from Iquela's childhood, search for a way to rec­oncile their fragile lives with their parents' violent militant past. The body of Paloma's mother gets lost in transit, sending the three on a pisco-fueled journey up the cor­dillera as they attempt to grapple with pain that stretches across generations."
Machine (Graywolf), by Susan Steinberg
"Susan Steinberg's first novel, Machine, is a dazzling and innovative leap forward for a writer whose most recent book, Spectacle, gained her a rapturous following. Machine revolves around a group of teenagers—both locals and wealthy out-of-towners—during a single summer at the shore. Steinberg captures the pressures and demands of this world in a voice that effortlessly slides from collective to singular, as one girl recounts a night on which another girl drowned. Hoping to assuage her guilt and evade a similar fate, she pieces together the details of this tragedy, as well as the breakdown of her own family, and learns that no one, not even she, is blameless. A daring stylist, Steinberg contrasts semicolon-studded sentences with short lines that race down the page. This restless approach gains focus and power through a sharply drawn narrative that ferociously interrogates gender, class, privilege, and the disintegration of identity in the shadow of trauma. Machine is the kind of novel—relentless and bold—that only Susan Steinberg could have written."
October
Space Struck (Sarabande Books), by Paige Lewis
"Consider this glowing debut from Paige Lewis a menagerie of near-extinction. Space Struck explores the wonders and cruelties occurring within the realms of nature, science, and religion, with the acuity of a sage, the deftness of a hunter, and a hilarious sensibility for the absurd. The universe is seen as an endless arrow 'and it asks only one question: How dare you?' The poems are physically and psychologically tied to the animal world, replete with ivory-billed woodpeckers, pelicans, and constellations-as-organisms. They are also devastatingly human, well anchored in emotion and self-awareness, like art framed in a glass that also holds one's reflection. Silky and gruesome, the poems of Space Struck pulse like starlight."
Until the Lions: Echoes from the Mahabharata (Archipelago Books), by Karthika Naïr
"A dazzling and eloquent reworking of the Mahabharata, the ancient Asian epic, through nineteen voices on the periphery. With daring poetic forms, Karthika Naïr breathes life into this ancient epic. In Until the Lions, Karthika Naïr retells the Mahabharata through the embodied voices of women and marginal characters, so often conquered and destroyed throughout history. She captures the richness and complexity of the Mahabharata, while illuminating lives buried beneath the edifices of one of the world's most venerated books. Through shifting poetic forms, ranging from pantoums to Petrarchan sonnets, Naïr choreographs the cadences of stray voices. And with a passionate empathy, she tells of nameless soldiers, their despairing spouses and lovers, a canny empress, an all-powerful god, and a gender-shifting outcast warrior. Until the Lions is a kaleidoscopic, poetic tour de force. It reveals the most intimate threads of desire, greed, and sacrifice in this foundational epic."
November
Some of Us Are Very Hungry Now (Two Dollar Radio), by Andre Perry
"With luminous insight and fervent prose, Andre Perry's debut collection of personal essays, Some of Us Are Very Hungry Now, travels from Washington DC to Iowa City to Hong Kong in search of both individual and national identity. While displaying tenderness and a disarming honesty, Perry catalogs racial degradations committed on the campuses of elite universities and liberal bastions like San Francisco while coming of age in America. The essays in Some of Us Are Very Hungry Now take the form of personal reflection, multiple choice questions, screenplays, and imagined talk-show conversations, while traversing the daily minefields of childhood schoolyards and midwestern dive-bars. The impression of Perry's personal journey is arresting and beguiling, while announcing the author's arrival as a formidable American voice."
A Dream Come True (Archipelago Books), by Juan Carlos Onetti;
translated by Katherine Silver
"A Dream Come True: The Collected Stories of Juan Carlos Onetti will be the first extensive collection of this classic Uruguyan author's short fiction ever published in English. Onetti is truly one of the greats of Latin American literature. With prose vibrant and readable, Onetti won the most prestigious Spanish literary prize, the Premio Cervantes."
Fall 2019
No Good Very Bad Asian (C&R Press), by Leland Cheuk
"Meet Sirius Lee, a fictive famous Chinese American comedian. He is a no good, very bad Asian. He is not good at math (or any other subject, really). He has no interest in finding a 'good Chinese girlfriend.' And he refuses to put any effort into becoming the CEO/Lawyer/Doctor his parents so desperately want him to be. All he wants to do is making people laugh. A cross between Paul Beatty's The Sellout and Jade Chang's The Wangs Vs. The World, No Good Very Bad Asian follows Sirius's life from his poor, suffocating upbringing in the immigrant enclaves of Los Angeles to the loftiest heights of stardom as he struggles with substance abuse and the prejudice he faces despite his fame. Ultimately, when he becomes a father himself, he must come to terms with who he is, where he came from, and the legacy he'll leave behind."
John Madera is the author of Nervosities (Anti-Oedipus Press, 2024). His other fiction is published in Conjunctions, Salt Hill, The &Now Awards 2: The Best Innovative Writing, and many other journals. His nonfiction is published in American Book Review, Bookforum, The Review of Contemporary Fiction, Rain Taxi: Review of Books, The Believer, The Brooklyn Rail, and many other venues. Recipient of an M.F.A. in Literary Arts from Brown University, New York State Council on the Arts awardee John Madera lives in New York City, Rhizomatic and manages and edits Big Other.